Jake Martin is a local creative as well as the Director at Black & Brass Coffee Co. Jake oversees wholesale production and distribution as well as the creative direction of the company.
Early Beginnings: Punk Rock and Spray Paint
Jake is a lifelong resident of Honesdale, Pennsylvania. From an early age, he showed much interest in music and art, spending time drawing and performing music. Growing up in a military-oriented family, he somewhat broke the mold by studying art after graduating high school. While in art school, he studied animation as well as music production and recording.
The skills that he learned in his animation courses, as well as his foundational interest in drawing, led Jake into enjoying graphic design as a hobby and occasional source of income. He credits his experience in art school for enabling him to take his art to the next level. His desire to study music production originated in his earlier years, forming punk-rock bands with high school friends and even releasing a few albums. While he doesn't currently play in any organized bands right now, he casually enjoys jamming as a jack-of-all-trades. Jake likes to play the drums and guitar, and the piano from time to time.
For Jake, his visually creative side really began to flourish out of pure necessity. When he began playing in high school bands, he and his band mates wanted to create merchandise that they could sell. With a very limited teenager budget, Jake was left with one option: creating custom cardboard stencils to spraypaint designs on thrift store t-shirts. If the band needed a logo or design, Jake would draw it.
"Do-It-Yourself" Art
Slowly but surely, he came to really enjoy creative expression through visual art. This gritty and crafty DIY method of creating art was what sparked Jake's journey not only as a musician but also as an artist. Even to this day, Jake loves exploring resourceful and creative ways to express himself. As a working professional, he strives to apply this same ethic to his work by always looking for new ways to accomplish tasks.
When asked about any natural creative abilities that he may have expressed at a young age, Jake stands behind the fact that his talent came from necessity. Jake values what he calls "the desire to create" over any birth-given talent. His emphasis is not so much on the ability of the artist but rather the passion one demonstrates in any creative plane. To Jake, the idea that anyone has "natural talent" is questionable.
"I still contemplate whether natural talent is actually a thing. I think what's more important than that is the desire to create. A passion for it. If you're passionate about it and you have a desire to do it, you're going to get better at it because you're going to want to do it more. That is the applied practice of a craft or skill."
Current Projects
At the time of this writing, Black & Brass is featuring a gallery of Jake's work at the Main Street location. This is Jake's first experience showcasing his own visual art, a fact that many may find surprising. When asked about it, he states that "I think the art is very much a piece of me. There was much emotion and thought put into every piece and I am very, very proud of it." For Jake, it is rewarding to have the opportunity for some formal recognition of his work. As a freelancer, he finds himself making art for clients, but with his experience at the art gallery, he says "it is refreshing to make art for me. It's very personal and very much my own. It's freeing."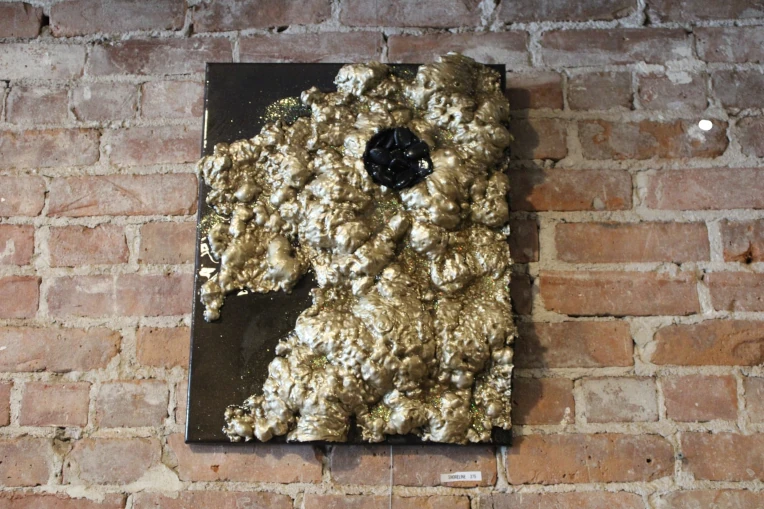 Believing You Can Do It
Jake believes that most people are held-back in realizing the true potential of what they could create. "If you ask a child to draw a banana on a surfboard, they're going to do it. If you ask an adult to draw that, they're going to tell you they don't know how." To him, it is all about unlocking the childlike freedom and creativity from within and telling yourself that you can create whatever you want. "The only question to ask oneself is 'how do I make it happen?'"
According to him, his biggest creative challenge has been sticking with one thing for any long period of time. At times, he has felt frustration towards himself for bouncing around from project to project, but he is at a point now in which he fully embraces that process. To him, it's more about the journey than the finished product. Learning and trying new things is what keeps him engaged and excited about his creativity.
As for his biggest inspiration, Jake states that "seeing what other people are creating is kind of like a chef going to a different restaurant and trying food made by a different chef. You can see the tools you are using get applied in a different way. I can see other artists creating something that I didn't think of at first, and it blows my mind. That inspires me."
"Believe in your own creativity. That anything you want to make, you can make. It took me a long time to learn that. Maybe it was my late twenties when I figured out that I can break down those walls and just create something. Draw that banana on a surfboard. I spent a long time in my teen years holding myself back, and I wish I didn't."
Read more articles about featured creatives on our blog!