Very few artists display versatility quite like Tyler Essex. From music to writing to visual art and to acting, Tyler is one of the most well-rounded of the younger talent in the Poconos. Originally from Staten Island, he moved to Hawley, PA in his adolescence and got his education in communications.
Visual Art
For Tyler, it all started during his childhood years at school. In an art class, he was given the assignment of drawing his house. During the assignment, young Tyler felt somewhat discouraged and unsatisfied with his work. He got the attention of his teacher and expressed his feelings. His teacher examined his work and was able to recognize his house. She was his neighbor and was able to determine his street address only by looking at the drawing. For Tyler, this was the all assurance and reinforcement he needed to begin to feel enthusiastic about his creative expression.
From there, he began exploring visual art, mainly in art classes at school. In his later teenage years, he started to paint and draw a bit more seriously. Eventually, he found himself navigating an interesting crossroads of sculpture and visual art through the practice of wood-burning.
"The way that started was through my brother. He was interested in mixed martial arts and wanted to learn to use a bow staff for a long time. I was at a friend's house and there was a lightning storm a few days prior. One of the trees on his property got struck by lightning and a big tree branch came off of it. What I did was sand the limb down to the size of a bow staff, and started wood-burning the entire thing for a Christmas gift. I made this giant custom bow staff with all different kinds of artwork that related to my brother."
Tyler found traction with his new hobby of wood-burning. He started doing custom designs on wood discs for family and friends. Over time, his hobby grew and he started taking commissions on wood-burning projects. You can see more of his wood-burning work on Instagram (@tyleressex) or even buy some pieces on his Etsy shop. From plaques to disks to clocks, Tyler's unique approach to the intersection of sculpture and drawing is commendable.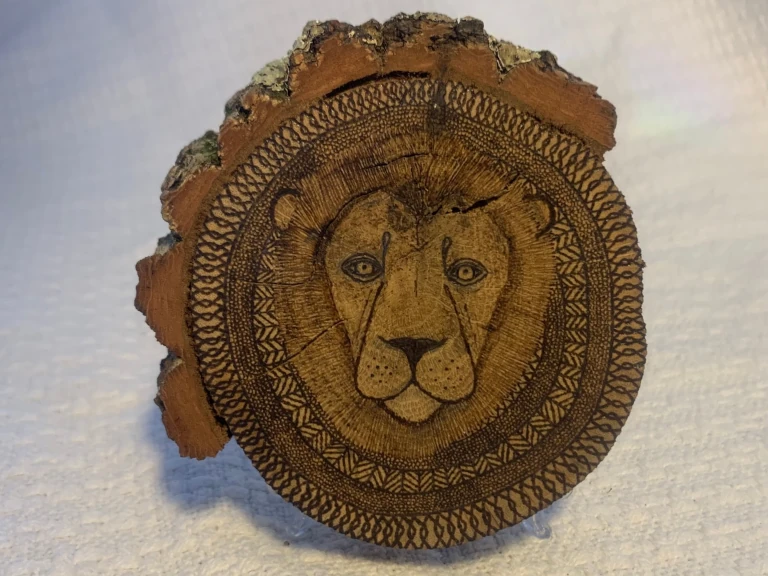 Writing and Acting
Tyler's artistic range is not limited to visual expression. He is also a trained writer. In his Junior year at Wallenpaupack High School, he took a creative writing class. It was there that he began writing his own poetry. After high school, he pursued an education in communications. During the course of his education, he took a course in creative non-fiction and another in screenwriting, among others. In his screenwriting class, he had to begin writing a screenplay. Over the course of that semester, he completed about one-third of the screenplay, enjoying every step along the way.
For his senior project (or Capstone), he decided to finish the screenplay. After that experience, Tyler was inspired to write his own screenplay outside of the classroom just for fun. "I'm working on another horror screenplay, which I'm much more emotionally invested in than even the one that I wrote in college."
His current plan is to finish his new screenplay and then revise it into a book. After the book has been published, he'd like to explore the possibility of taking his screenplay to the silver screen. At the same time, Tyler's been exploring the sketch comedy scene, having laid plans to start a sketch comedy production team with some friends.
"Writing's a big part of what I do. I also adore sketch comedy and it's pretty funny. I have no medium when it comes to what I write about. It's either really ridiculous and over-the-top comedy or it's bone-chilling horror."
In addition, Tyler has been trying his hand as an actor and performer.
"I was hired by an acting agency in Manhattan last March. Because of COVID nothing was really picking up, but I've been looking into some potential opportunities."
A Passion for Music
Out of all of his creative methods, Tyler's most passionate medium would be music. As a drummer and songwriter, Tyler wrote over 30 pieces last year during the initial time he was spending at home due to the pandemic. His passion for music extends back to his early years. At only six years old, Tyler heard the likes of Pink Floyd and Led Zeppelin and knew that he wanted to play the drums.
Through his teens and early twenties, Tyler began jamming with different sets and playing with different bands. He's formed and performed with a handful of bands. He currently plays with Static in The Attic, a band he and some others founded in August, 2021.
"I've kind of dabbled in pretty much every form of music when it comes to drumming. As a drummer, I try to diversify my game and just explore different outlets to keep myself fresh. I like to pluck from different aspects from different genres and try to build my own sound."
It goes without saying much else that Tyler Essex is a very versatile and creative young artist. If he isn't burning designs into wood, he's either writing screenplays or performing original songs. He cites his family and friends as his biggest source of inspiration as well as the difficulties he's faced throughout his life.
"With my writing of music, I was going through some heavy stuff in 2019-2020, and it started to inspire all of these different songs that just came to me."
Tyler states that he would give the following advice to his twelve-year-old self if he could:
"Don't worry too much. I always worried so much about what I wasn't getting done. I worried about the future. I worried about not having time to focus on creative projects. I worried about making money. Looking back, it was all about the journey, the journey I'm still on. I could've saved quite a bit of time if I hadn't worried so much in my younger years."
You can find Tyler Essex Instagram at @tyleressex as well as his band Static in The Attic at @staticintheattic. Tyler also posts on TikTok under @tydrumsdaily. His wood-burning pieces are available for sale on Etsy.